Sometimes, relationships are magical. And sometimes, magic is relational.
Both seem to be the case in a new collaboration between two local businesses.
Dickens Parlour Theatre is known for its magic shows and for bringing international entertainers to "my little Millville garage theater," as owner Rich Bloch called it recently. The quirky space served to introduce Bloch's vision to the community over the last decade. As a magician himself (as well as a Washington, D.C.-based attorney specializing in arbitration), Bloch has a knack for a good turn of phrase.
But even he struggles to put into words the project on which he and Susan Ryan, owner of Good Earth Market & Organic Farm, are now embarking.
"It's gonna work," Bloch said last week, sitting at a table in Good Earth's dining space.
"It" is a brand-new theater, which will also include an event space, bar and full kitchen, now being built behind the existing Good Earth building just off Route 26 in Clarksville.
The theater shut down in the spring of 2020 due to the COVID-19 pandemic, Bloch said. Since then, he has poured his energy into planning the new facility.
Meanwhile, the former Dickens location in Millville has been purchased by the Rickards family, owners of Perucci's Restaurant and Morning Buns Bakery, both of which will be relocated there. Morning Buns is set to reopen this week in its new location.
Since its groundbreaking in late August, the theater has taken shape quickly and is now under roof. Once completed, it will have a cedar-shake, beach-cottage style exterior to match that of Good Earth. Inside, though, the aesthetic will lean much more toward the, well… dramatic.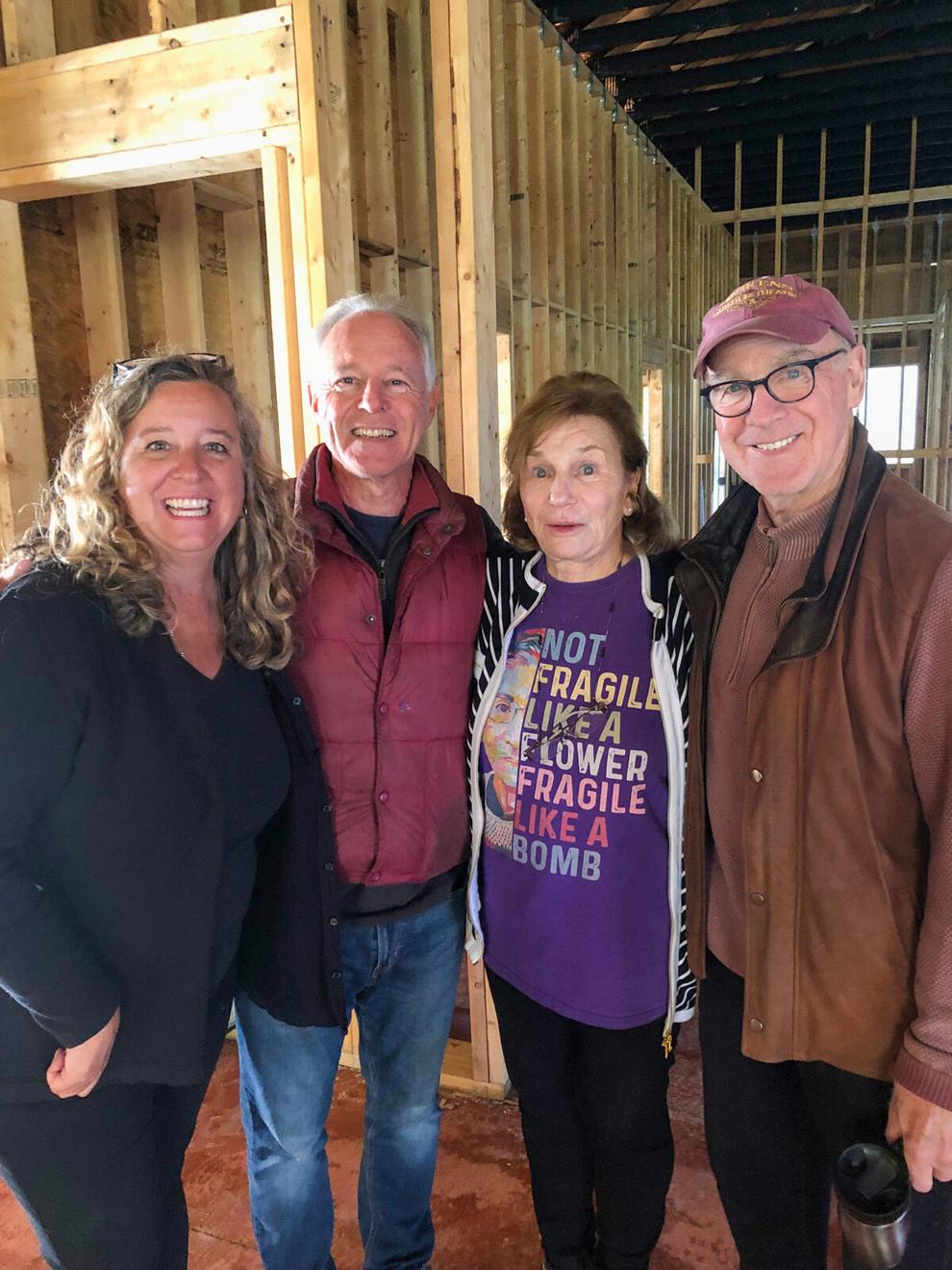 The building's "grand entrance" will feature a 17-foot chandelier that Bloch said will come in 700 pieces. He joked that he's looking for volunteers to help assemble it. The dramatic fixture will hang above the entrance, from a tower-like structure that can be seen from outside the building.
Inside, the theater will feature ornate woodwork and warm tones. The large event space, known as "the Great Hall," includes a small triangular stage structure in one corner — just large enough for a small band or a solo performer. The small stage leaves plenty of room for dining, dancing and celebrating, Bloch said. He envisions a wide range of events being held there, including weddings or rehearsal dinners, jazz brunches and community events. One idea he has for such events is a kind of "open house" where folks who are new to the area can come and meet business owners whose services they might be interested in.
The Great Hall will seat 96 people for dinners, which will be served in conjunction with shows in the adjacent theater, with meals prepared in the new kitchen. Ryan said she is very excited about the opportunity to serve the quality of food Good Earth has become known for, in a more formal setting than the market atmosphere next door. The dinners will be included in the price of a show ticket, and the menu includes a fish, chicken or beef option with vegetable sides, as well as a vegetarian offering.
To one side of the Great Hall will be a well-appointed bar, which Bloch said he foresees putting to use for comedy shows that will be held later in the evening than the dinner-theater productions.
The theater itself will seat about 90 people, with a much larger and more well-appointed stage than the previous location. Bloch said the backstage area will be more inviting for performers, with such amenities as showers and ample dressing areas. The stage has been designed for flexibility. Is size can be adapted to the type of show with the rearrangement of its curtains.
One thing that has not changed from the former location, though, is the close proximity to the audience — the front row of seats will be less than 2 feet from the stage.
Bloch has been looking for alternative locations for his theater for several years. He said when he first talked to Ryan, whose popular market in recent years has expanded into a venue for outdoor weddings and other events, "I thought, 'Wow, this could really be a good match.'"
Ryan, he said, was initially non-committal.
The day after speaking to her about collaborating, he said, "I came over here to buy grapes. And Sue came running around front and said, 'I've been trying to get you!'" he recalled. Ryan told him she had talked to her husband, Dave, and they had decided to move forward.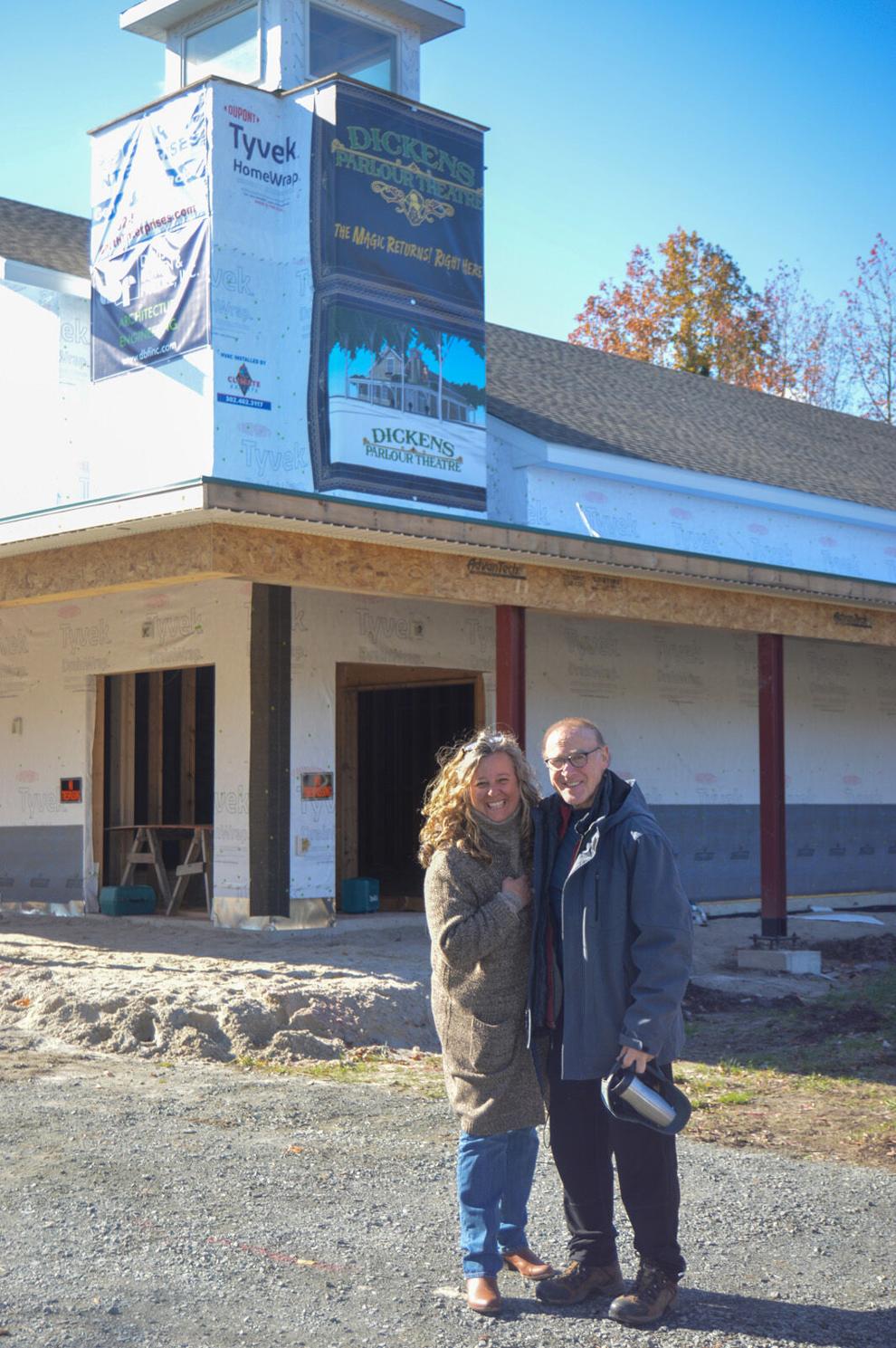 "And then we hatched the plan," Ryan said. "And it kept getting bigger and bigger."
"I think with the expertise that Rich and his team bring, with the depth of talent," Ryan said, "and with the expertise that we bring — we're award-winning bartenders, we have a fabulous menu —  the combination… There's no way we could do it without him, and I don't think that he could have the quality without us."
Ryan said she sees Bloch in the same category as the Freeman family, which developed the Freeman Arts Pavilion near Selbyville to bring the arts to the area in an accessible, affordable way. She said her staff is more than up to the challenge of providing high-quality dining for theater patrons. Although the kitchen is still under construction, Ryan already has a handle on how the flow of the kitchen will work with the dining space.
While the dinner-theater menu will be fairly traditional and consistent, Ryan said she plans to be a bit more creative with the late-night menu at the theater.
She said the staff working in the theater will be more formally dressed — probably in traditional white shirts and black pants, as opposed to the more informal T-shirts they wear at the Good Earth location. It's simply a matter of matching the aesthetic of the theater.
"I'm excited to do that next level," Ryan said.
"People are going to look at a night at the theater as a real stepping-out opportunity," when the Dickens Parlour Theatre curtain opens early next year, Bloch said.
"We want to elevate their experience when they walk in that building, for sure," Ryan said.
Both Bloch and Ryan admit that the new venture is "scary," simply because it is so unique to the area, but they added that they are also excited to get the shows started.
Mary Ryan, Susan's daughter, has been home for the holidays from California, where she is pursuing an acting career. She has been an enthusiastic supporter of the project and has helped with some of the messaging for the new facility and joined in the conversation this week.
She said she always at least tried to get tickets to a Dickens show when she would come home but wasn't always successful, because they were typically sold out.
"The demand is there," she said.
As a visitor now, she said she sees the growth in the area.
"Every time I come back home there's 1,000 new developments," she said. "It's wild how this community's growing."
Susan Ryan said she believes "the time is now" for the theater to be built.
"If we had this idea 20 years ago, it would have been a pipe dream," she said.
Bloch said he saw a young boy wearing a T-shirt recently at Good Earth that sums up his outlook. It's a quote from automaker Henry Ford: "Whether you think you can or you think you can't, you are right."
To keep up with the progress of the new Dickens Parlour Theatre, follow along on their Facebook page or on the website at www.dptmagic.com.