Meta withdraws Ukraine war content policy guidance request
Facebook parent Meta Platforms Inc said Wednesday it has withdrawn a request for policy guidance from its Oversight Board about the content moderation of posts related to Russia's ongoing war with Ukraine.
"This decision was not made lightly — the PAO (policy advisory opinion) was withdrawn due to ongoing safety and security concerns," the company said in a blog post.
The board, which can make binding decisions on specific thorny content moderation appeals and give policy recommendations, said it was "disappointed" by the decision.
A Meta spokesman declined to give more information about the policies on which it was seeking guidance or about the specific concerns.
Russia banned Facebook and Instagram in March, finding Meta guilty of "extremist activity" amid Moscow's crackdown on social media during its invasion of Ukraine. Meta's messaging service WhatsApp is not affected by the ban. Russia has also throttled Twitter by slowing its service.
Meta's Oversight Board, which includes academics, rights experts and lawyers, was created by the company as an independent body to rule on a small portion of content moderation cases, but it can also advise on site policies.
"While the Board understands these concerns, we believe the request raises important issues and are disappointed by the company's decision to withdraw it," the Oversight Board said in tweets on Wednesday.
"The importance for the company to defend freedom of expression and human rights has only increased."
Remote data from Chernobyl plant is transmitting to U.N. nuclear agency again
BERLIN — The U.N. nuclear agency says it is again receiving remote data from the Chernobyl power plant in Ukraine following an interruption caused by the Russian occupation of the site.
The International Atomic Energy Agency said late Wednesday that data transmission was re-established following a visit by its inspectors and technicians in April, after Russian forces withdrew.
The agency said it was the first time in two months that it has received remote data from all nuclear power plants and spent fuel storage facilities in Ukraine where monitoring systems are in place.
Its head, Rafael Mariano Grossi, said this was "a very important step for the IAEA to continue to implement safeguards in Ukraine."
Grossi cautioned, though, that on-site verification at the Zaporizhzhia nuclear plant "continues to be challenging owing to the presence of Russian forces and Rosatom personnel at the site," calling the situation "unsustainable."
Grossi said he has proposed leading an expert visit to Zaporizhzhia "after the necessary consultations and at the earliest possible opportunity."
A cyberattack took down one of Russia's largest video platforms for days
One of Russia's largest video streaming websites was rendered inoperable for three days after it was the target of a cyberattack.
RuTube, designed as a Kremlin-friendly counterpart to YouTube, came back online Wednesday afternoon after it went dark Monday. RuTube said in messages on its official Telegram channel that it had been the target of the "largest cyberattack" it had ever seen. 
The site still loads slowly, and it's unclear when full service will be restored.
Russia's invasion of Ukraine has prompted a near-constant stream of low-level cyberattacks on websites in both countries. Ukraine's government has even given the "IT Army," a group of so-called hacktivists, approval to launch almost daily attacks at targets it wants to overwhelm with web traffic.
Read the full story here.
Ban on sales of semiconductors, other tech to Russia having 'very serious effect,' U.S. commerce secretary says
WASHINGTON — Commerce Secretary Gina Raimondo said a ban on sales of semiconductors and other technology to Russia by the U.S. and its allies is having a serious impact on Russia's ability to manufacture military equipment.
"We have reports from Ukrainians that when they find Russian equipment, military equipment, on the ground, it's filled with semiconductors that they took out of dishwashers and refrigerators," Raimondo said Wednesday at a Senate hearing, adding that she met a few weeks ago with Ukraine's prime minister.
Raimondo said two of Russia's tank manufacturing plants have shut and that many of its automakers have furloughed workers and closed down.
"And so the point is, we are having a very serious effect," she said. "What we need to do in order to continue this is enforcement, enforcement, enforcement."
Raimondo said U.S. exports of technology to Russia are down by nearly 70 percent since late February, when the Biden administration, in coordination with European and Asian allies, imposed sanctions and export controls on Russia in response to its invasion of Ukraine.
Ukraine to hold first war crimes trial of captured Russian
ZAPORIZHZHIA, Ukraine — Ukraine's top prosecutor disclosed plans Wednesday for the first war crimes trial of a captured Russian soldier as fighting raged in the east and the south and the Kremlin left open the possibility of annexing a corner of the country it seized early in the invasion.
Prosecutor General Iryna Venediktova said her office charged Sgt. Vadin Shyshimarin, 21, in the killing of an unarmed 62-year-old civilian who was gunned down as he was riding a bicycle in February, four days into the war.
Shyshimarin, who served with a tank unit, was accused of firing on the man through a car window in the northeastern village of Chupakhivka. Venediktova said the soldier could get up to 15 years in prison. She did not say when the trial would start.
'Negotiations are ongoing' over freeing wounded Azovstal fighters, Ukraine's deputy PM says
Negotiations are "ongoing" about exchanging wounded fighters in the Azovstal steel plant for Russian prisoners, Ukraine's deputy prime minister said Wednesday.
It has been "impossible to unblock Azovstal by military means," Iryna Vereshchuk said in a post on Telegram that was translated by NBC News.
She added that the Ukrainian fighters holding out in the sprawling site in the port city of Mariupol "do not want to surrender."
She said her government had asked to take its "seriously wounded guys" away from the plant along a humanitarian corridor in return for the transfer of Russian prisoners.
Acknowledging that Russia had not agreed to Ukraine's terms, she said her government was "working on different options."
"None of them are perfect. But we are not looking for an ideal option, but a working one," she said.
Two Romanian journalists detained in Russian-backed region bordering Ukraine
Romania's Foreign Affairs Ministry said two Romanian journalists were arrested in Transnistria, a Russian-backed region bordering Ukraine that broke away from Moldova in the 1990s.
The ministry said security forces detained the journalists in Tiraspol, the area's capital. They were released several hours later following diplomatic efforts from Romania and Moldova.
Officials wrote that Romania's diplomatic mission in Moldova's capital, Chisinau, "was not informed in advance about the intention of the two journalists," noting that "so-called Transnistrian authorities" had recently banned foreign journalists.
The detainments follow a series of attacks in the area that have alarmed officials in Chisinau. Grenades were launched in the region's state security office last month, and explosives were dropped from a drone in a village last week.
Around 1,500 Russian soldiers are stationed in the Transnistrian area.
In long run, Putin has 'lost,' U.K. defense secretary says
Russian President Vladimir Putin will have to face the reality that his invasion of Ukraine has failed and that his country will emerge from the war as a "lesser" power, Britain's defense secretary told reporters during a visit to Washington.
Russian forces are struggling to gain traction in a new offensive in eastern Ukraine, its forces are depleted, and its economy is reeling under international sanctions, Defense Minister Ben Wallace said.
"Only President Putin can know where his off-ramp is going to be," Wallace said. "He's got to reconcile that in the long run he's lost. So whatever happens in Ukraine, let's consider that Russia is a lesser country now than it was before this invasion."
Wallace, who was due to meet his U.S. counterpart, Defense Secretary Lloyd Austin, on Wednesday, said that Russian "armed forces are worn out" and that Moscow will face difficulties shoring up its army, especially as sanctions hinder Russia's ability to import Western technology needed for much of its military equipment.
Read the full story here.
 Germany trains Ukraine on powerful artillery system
The German army says it has begun training Ukrainian soldiers to use a powerful artillery system that Germany and the Netherlands plan to supply to Ukraine.
The Defense Ministry said 18 crews are being trained to use the Panzerhaubitze 2000, an advanced self-propelled howitzer.
"This is a clear sign of our solidarity," the ministry said. "But Germany won't become a party to the conflict because of the training or delivery" of the howitzers.
Russia should look in the mirror if Finland joins NATO, president says
Russia should look in the mirror if Finland decides to join NATO to bolster its own security, Finnish President Sauli Niinistö said Wednesday.
Speaking at a news conference after he signed a mutual defense cooperation pact with Britain's Prime Minister Boris Johnson, Niinistö said his country, along with Sweden, had not aligned with either NATO or Russia "from our own will."
By stating that Finland and Sweden could not join the alliance, Russia was "saying that 'you don't have your own will here,' and that is a huge change," Niinistö said. "That made us think."
Russia's invasion of Ukraine "showed they are ready to attack a neighboring country," he added.
Niinistö said that if Finland does join NATO and Russia asks why, his response would be: "You caused this. Look at the mirror."
Czech president approves request from citizens to join Ukraine's armed forces
Czech President Miloš Zeman has approved requests by 103 Czechs to join Ukraine's armed forces to help fight Russian aggression.
Czech citizens are banned from service in foreign armies, which is a crime punishable by a prison term of up to five years.
The 103 are among a total of about 400 Czechs who have applied for exemptions from the ban, the Defense Ministry said. Authorities still have to process most of the requests.
It's not clear how many Czechs have already been fighting on the Ukrainian side against invading Russian troops.
The president's approval has to be co-signed by Prime Minister Petr Fiala, who said through his spokesman that he would sign all requests that have been approved by the Czech authorities.
National Guard of Ukraine has lost more than 500 since war began
More than 500 members of the National Guard of Ukraine have died since the war with Russia began, Oleksiy Nadtochyi, the head of its operational department, said Wednesday.
It was the first time since the conflict began that the military force with law enforcement functions, which is responsible for public security, has announced its death toll.
Nadtochyi told the state-run Ukraine Media Center that 501 members had been killed and that 1,697 had been injured.
He added that the National Guard was responsible for covering Ukraine's northern border with Belarus and that it was taking part in operations in the eastern Donestk region, as well as in the country's south.
'Please don't let them die': Wives of Ukrainian fighters in Mariupol beg Pope Francis
The wives of two of the fighters at the Azovstal steel plant in Mariupol begged Pope Francis on Wednesday to help save their husbands.
"You are our last hope. I hope you can save their lives. Please don't let them die," Kateryna Prokopenko, 27, told the pope after his general audience at the Vatican, in video released by Reuters.
Prokopenko and Yuliya Fedosiuk, 29, also asked him to intervene directly with Russian President Vladimir Putin to let them go because "Russian captivity is not an option."
The women traveled to Rome last month to publicize the situation at the plant. The Azovstal steel plant is the last holdout of resistance in Mariupol, the southern port city now captured by Russian forces. The plant has come under heavy strikes for weeks, and water, food and medicine are running out. Russian tanks and soldiers attempted to enter the fortress on Wednesday, an adviser to the city's mayor said.
U.K. would support whatever Sweden decides on NATO membership, PM Johnson says
British Prime Minister Boris Johnson said Wednesday that he had agreed to a new deal with Sweden to bolster European security and pledged to support both countries' armed forces should they come under attack.
"In the event of a disaster or an attack upon Sweden, the U.K. would come to the assistance of Sweden with whatever Sweden requested," Johnson told a news conference with his Swedish counterpart, Magdalena Andersson.
Should Sweden decide to apply to join NATO, he added that the U.K. would "support whatever course of action Sweden decides to embark upon and we'll be as useful and supportive as we can."
Johnson is set to visit Finland later in the day, where he is expected to formalize a similar agreement with the country's president, Sauli Niinistö.
Taking shelter in Kharkiv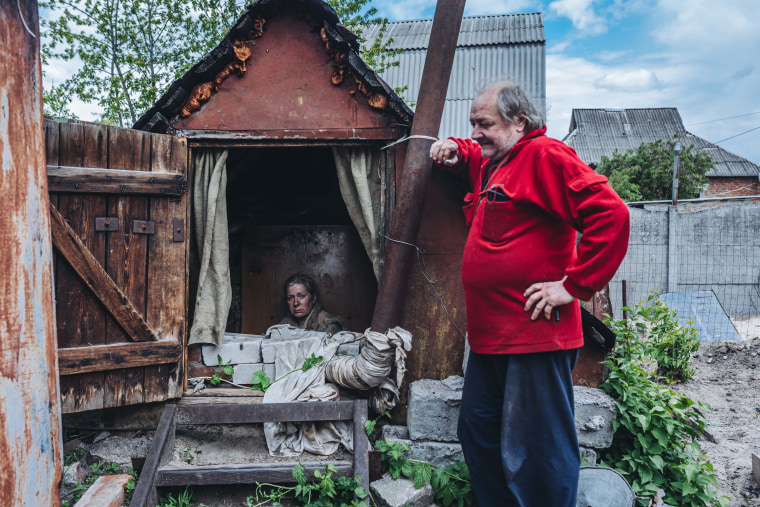 Finland's leader says if it joins NATO it would be for security of its citizens
If Finland decides to join NATO, it will be for the "security" of its citizens, Finland's prime minister said Wednesday.
"If Finland makes this historical step, it is for the security of our own citizens," Prime Minister Sanna Marin said during a press conference in Tokyo with Japanese Prime Minister Fumio Kishida. "Joining NATO would strengthen the whole international community that stands for our common values."
Marin has previously said that joining NATO would open Finland to potential risks from Russia, including cyberattacks. The Nordic country shares a more than 800-mile-long border with Russia and has been a NATO partner since 1994.
Russia sends tanks and soldiers to capture Mariupol's last pocket of resistance, Ukrainian official says
The Azovstal steel plant in the southern port city of Mariupol was again in flames after intense strikes from Russian forces, an advisor to the mayor said Wednesday. In an attempt to break through the final pocket of Ukrainian resistance in the city, which has otherwise been captured by Moscow, the Russian military has sent in tanks and soldiers.
"Azovstal is attacked not only from the sky and artillery, but again with tanks. They are also trying to break through with manpower," mayoral adviser Petro Andryushchenko said in a post on Telegram. "If there is hell on earth, it is there."
Outside of the steel plant, the city has a "catastrophic lack of medical staff and access to medicine," he said. Earlier on Wednesday, Mariupol Mayor Vadym Boychenko said that up to 10,000 people could die in the occupied city by the end of the year because of a lack of critical infrastructure including clean water and sewage.
Ukrainian soldiers train on howitzers in Germany
The first Ukrainian soldiers to be trained on the howitzer 2000 have arrived in Germany, the German Defense Ministry confirmed to NBC News on Wednesday.
Up to 18 Ukrainian soldiers will be trained on the artillery in the southwestern city of Idar-Oberstein in the German state of Rhineland-Palatinate. Howitzers are midrange surface-to-surface cannons used to support ground forces in either defensive or attacking maneuvers. 
"It is the first time that soldiers from the Ukrainian armed forces receive training on the howitzer 2000 in Germany," a spokesperson for the defense ministry said.
Since the start of the war, the U.S. has provided Ukraine with scores of howitzers, as well as with ammunition and drones, in addition to humanitarian and economic assistance. On Tuesday, the House approved a fresh $40 billion Ukraine aid package.
Shelling in Kharkiv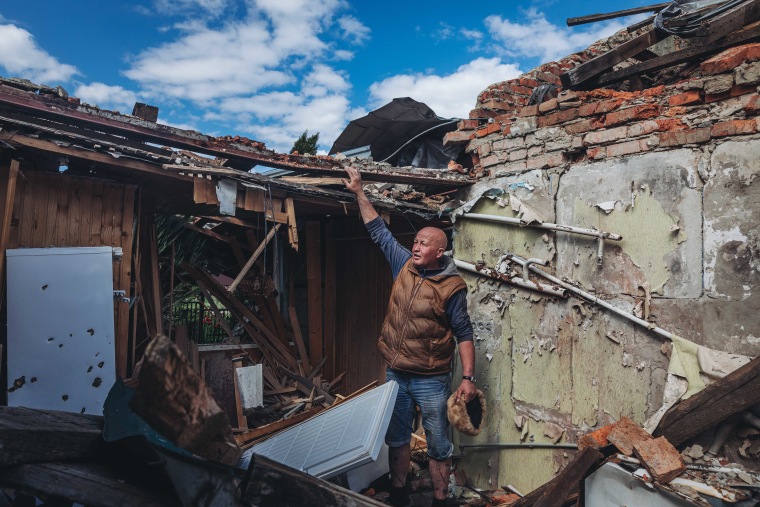 E.U.'s proposed Russian oil ban would devastate Hungary's economy, foreign minister says
The European Union's proposed ban on Russian oil would devastate Hungary's economy, Foreign Minister Peter Szijjarto said Wednesday.
An agreement between Budapest and the E.U. on the proposed ban looked unlikely, he said, according to Reuters. "Brussels has no proposal for a solution… which could handle the atomic bomb-like impacts of this potential oil embargo against Russia on Hungary's economy," Szijjarto said in a video posted on his Facebook page, according to Reuters.
Hungarian Prime Minister Viktor Orban also described the proposal as an economic "atomic bomb" on state-run radio earlier this month. Hungary is one of the main critics of the E.U.'s proposed ban and each of the 27 members of the bloc must back the plan for it to pass.
Southern Kherson region to ask Putin to join Russia, pro-Russian official says
A Moscow-installed official in Ukraine's southern region of Kherson said the Russia-occupied region will appeal directly to President Vladimir Putin about accepting it into Russia, the state news agency Tass reported.
The intended move was announced Wednesday by Kirill Stremousov, deputy head of the so-called military-civilian administration of the region, according to Tass. The administration was installed in late April after the Russian forces deposed Ukrainian officials in the region.
The strategic region with access to the Black Sea has been under Russian control since the early days of the war.
There has been much speculation about Russia's intentions for its future, with observers suggesting it could be turned into a "people's republic" akin to those controlled by pro-Russian separatists in Ukraine's east or annexed altogether like the Crimean Peninsula was in 2014.
Kremlin spokesman Dmitry Peskov told reporters Wednesday that residents of the region should decide for themselves whether or not to appeal for the region to join Russia, and that such a possibility should have a clear legal justification, according to Tass.
Russian forces placed land mines around Kharkiv, Ukraine says
Russian forces placed land mines in the Kharkiv areas they occupied, the head of the region's military warned.
"The enemy completely mined everything," Oleh Sinegubiv said in a post on Telegram. He warned residents to beware of returning to areas where the Russian military had recently been forced out, and that schools, kindergartens and private homes had been mined. Teams were demining the area, while critical infrastructure such as gas and electricity was also being restored, he said.
Ukraine's forces have in recent days pushed Russian troops out of areas they had occupied earlier in the war, taking back several towns in the Kharkiv region.
More than 100 hospitals destroyed in Ukraine, health ministry says
Russian forces have destroyed 101 hospitals and shot or captured 200 ambulances since the invasion began Feb. 24, Ukraine's ministry of health said in a post on Facebook on Wednesday.
The claims came as the head of the Luhansk region said Tuesday that Russian forces took equipment from local hospitals and schools in the town of Kreminna, located in the east between Kharkiv and Luhansk, and sent it to Russia.
"The Russians were shocked by the equipment of our hospitals, so they did not delay and in the first days of the occupation began to dismantle the equipment and transport it to Luhansk or Russia," the regional governor, Serhiy Haidai, said in a post on his Telegram channel.
Gas shortages hit Ukraine
ON THE ROAD TO KYIV, Ukraine — Driving anywhere in Ukraine these days takes a lot of planning due to the country's fuel shortage.
On the roughly 340-mile drive from Lviv to the capital city, Kyiv, many gas stations are closed because they have run out of fuel. 
Some gas stations that are still open only service trucks, agricultural vehicles, ambulances, police cars and other essential vehicles. Even then, most gas stations have put a limit on the amount of gas allowed per vehicle.
For everyday Ukrainians, it can be hard to find gas stations that will service them. And the lines can be brutally long.
Christmas socks for refugees in Odesa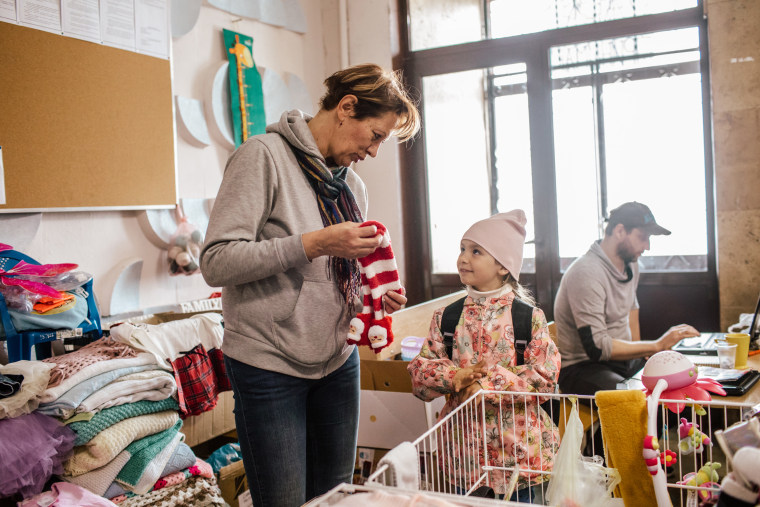 Mariupol mayor warns more than 10,000 people could die by the end of the year
More than 10,000 people could die by the end of the year in the southern port city of Mariupol, now mostly occupied by Russia forces, the mayor said Wednesday.
"The humanitarian situation in Mariupol is catastrophic now," Mayor Vadim Boichenko said in a post on Telegram. "There are no medicines and doctors, normal water supply, sewage does not work, etc."
He warned that without the operation of clean water and sewage, epidemics could break out in the city, especially with a population made up mainly of the sick and elderly.  Around 100,000 civilians are still present in the southern port city and awaiting evacuation, the mayor said Tuesday.
Zelenskyy thanks Pelosi, House for approving Ukrainian aid
Ukraine halts Russian gas flows in areas Moscow occupies
Ukraine's gas pipeline operator said Wednesday that it will stop the flow of Russian natural gas at a key hub in the east of the country currently occupied by Russian forces.
The operator, GTSOU, said in a statement that it "cannot carry out operational and technological control" over the Novopskov compressor station, located in Luhansk, which handles around a third of Russian gas that passes through Ukraine to Europe, as well as in other assets in the area.
The operator said it would redirect the flow of gas to a facility in the south under Ukraine's control.
The European Union is working to secure a ban on Russian oil imports to its 27 member states, designed to hit Russia's national finances.
Faces of Azovstal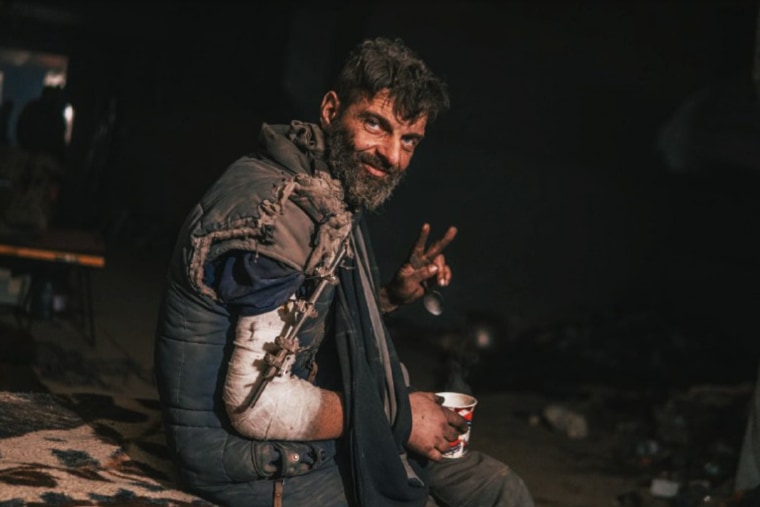 Ukraine makes gains in northeast counteroffensive against Russian forces
Ukraine's military has recovered territory in the northeast of the country, making gains against Russian forces and pushing them back toward the border.
"The occupiers are gradually being pushed back from Kharkiv oblast," President Volodymyr Zelenskyy said late Tuesday, adding that invading troops had been pushed out of four villages in the region.
Ukraine's forces may be within six miles of the Russian border, according to the Institute for the Study of War. Russian forces from the Izyum area, located around 75 miles southeast of Kharkiv, are reportedly redeploying north to attempt to halt Ukraine's advance, its daily update said Tuesday afternoon.
The Kharkiv region, including the major city itself, came under heavy attack early in the war with many of its buildings destroyed by Russian strikes.
Ukraine strikes Russian resupply ships with drones, U.K. says
Ukraine's military has successfully attacked Russian resupply vessels with drones, the United Kingdom's defense ministry said Wednesday.
Ukraine launched successful attacks against air defenses and resupply vessels with Bayraktar drones, the defense ministry said in a daily intelligence update.
"Russia's resupply vessels have minimum protection in the western Black Sea, following the Russian Navy's retreat to Crimea after the loss of the Moskva," the ministry said in a statement.
Meanwhile, fighting continues on Zmiinyi Island, also known as Snake Island, the U.K. said. If Russia consolidates its position in the island, "they could dominate the north-western Black Sea," the ministry said. The island is off of Ukraine's southwestern coast, south of Odesa.
House passes $40 billion package to provide military, humanitarian aid
The House passed legislation Tuesday night that would provide $40 billion in new aid to Ukraine as the Biden administration looks to step up U.S. support for Kyiv in its war against Russia.
The House voted 368-57 after President Joe Biden urged quick congressional action and Republicans balked at passing an additional $10 billion in Covid relief funds alongside the military and humanitarian assistance for Ukraine. All 57 no votes came from Republicans.
The supplemental funding measure now heads to the Senate. GOP leader Mitch McConnell said Tuesday that he asked Biden last week to separate the coronavirus aid from the Ukraine funding.
Read the full story here.